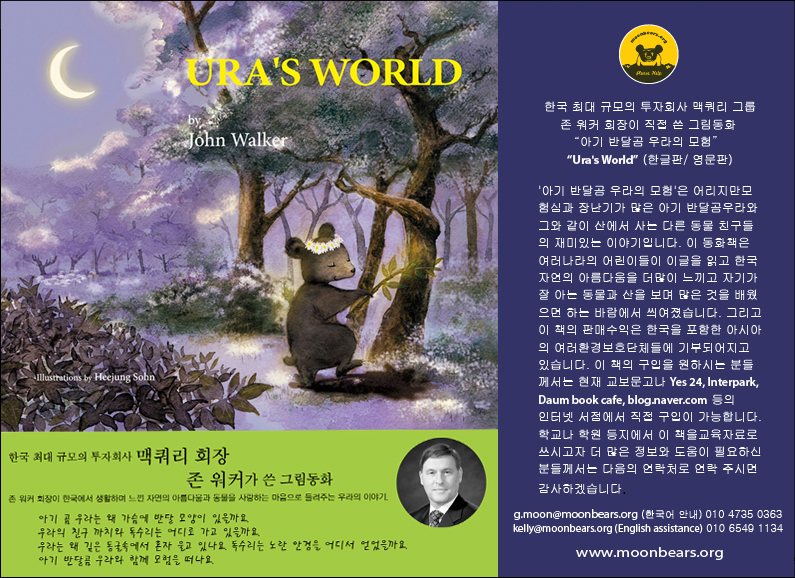 "Ura's World" tells a tale about a young, spirited, mischievous little moonbear named Ura and his charismatic gang of forest friends in their mountain environment, far from the city. Among these friends are the wise old eagle "Doc Suri", a spectacle-wearing creature with an interesting history. We read about Doc Suri's first encounter with a human and learn a thing or two about the value of helping others. We meet the bright bird "Gaachi", who later comes to Ura's rescue as young Ura finds trouble as easily as he finds fun. The story ends with another encounter with the human world, and Ura and friends learn a lesson about the manner in which life holds a delicate balance of action and consequence.
°í°´ ¿©·¯ºÐ²²,
Park English´Â--
±¹³» ÃÖ´ë±Ô¸ðÀÇ ±ÝÀ¶±â°üÀÎ Çѱ¹¸ÆÄõ¸®±×·ìÀÇ Á¸ ¿öÄ¿ ȸÀåÀÌ Á÷Á¢ ÁýÇÊÇϽŠµ¿È­Ã¥ ¡° Ura¡¯s World¡± ¸¦ ÀÚ½ÅÀÖ°Ô ±ÇÇØ µå¸³´Ï´Ù.
¾Æ¸§´Ù¿î »ðÈ­´Â ÀÏ·¯½ºÆ®·¹ÀÌÅÍ ¼ÕÈñÁ¤¾¾°¡ ÀÛ¾÷ ÇÏ¿´°í
Çѱ¹ÆÇÀÇ ¹ø¿ªÀº ¾Æµ¿¹®ÇÐ ¹ø¿ª°¡ ¾È¹ÎÈñ ÀÛ°¡°¡ ¿Å°Ü Áּ̽À´Ï´Ù.
Á¸ ¿öÄ¿ ȸÀåÀº ¡°¿ì¸®ÀÇ ¾î¸°À̵鿡°Ô Çѱ¹°íÀ¯ÀÇ ¾Æ¸§´Ù¿î ÀÚ¿¬°ú µ¿¹°ÀÇ ¼ÒÁßÇÔÀ» ±ú´Ý°Ô ÇÏ°í »ç¶ûÇÏ°í º¸È£ÇÏ´Â ¸¶À½À» Àç¹ÌÀÖ´Â µ¿È­¸¦ ÅëÇØ °¡¸£Ä¡°íÀÚ ÀÌ ±Û ¾²±â¸¦ ½ÃÀÛ ÇÏ¿´´Ù¡± ¶ó°í ±×ÀÇ ÁýÇÊ µ¿±â¸¦ ¸»ÇÕ´Ï´Ù.
µ¿È­ÀÇ ÁÖÀΰøÀº ¡°¿ì¶ó¡±
¾î¸®Áö¸¸ Àå³­±â°¡ ¸¹°í ¸ðÇè½ÉÀ¸·Î °¡µæ Âù ¾Æ±â ¹Ý´Þ°õÀÔ´Ï´Ù.
¶ÇÇÑ ¿ì¶ó¿Í ÇÔ²² »ê¼Ó¿¡¼­ »ç´Â ¿©·¯ Åк¹¼þÀÌ µ¿¹«µéÀÇ Àç¹ÌÀÖ´Â ¸ðÇèÀ̾߱Ⱑ Èï¹Ì¸¦ ÀھƳÀ´Ï´Ù.
ÀÌ Ã¥ÀÇ ¸ðµç ¼öÀͱÝÀº Çѱ¹À» ºñ·Ô ¾Æ½Ã¾ÆÀÇ È¯°æ ¹× µ¿¹° º¸È£´ÜüµéÀ» µ½±â À§ÇÑ ±âºÎ±ÝÀ¸·Î ¾²¿©Áö°í ÀÖ½À´Ï´Ù.
ÀúÈñ Park English´Â ¡°Ura¡¯s World¡±/ ¡°¾Æ±â ¹Ý´Þ°õ ¿ì¶óÀÇ ¸ðÇ衱À» ±ÍÇпøÀÇ Á¤±Ô ±³À°±³À糪 °¡Á·°ú Ä£±¸µéÀ»À§ÇÑ »ç¶ûÀÇ ¼±¹°·Î »ç¿ëÇϱ⿡ ¼Õ»öÀÌ ¾ø´Ù°í ÆÇ´ÜÇÏ¿© Àû±Ø Ãßõ ÇÏ°íÀÚ ÇÕ´Ï´Ù.
ÀÌ Ã¥ÀÇ ±¸ÀÔÀº ±³º¸¹®°í, ¹Ýµð¿£·ç´Ï½º µî ´ëÇü¼­Á¡ ¹× °¢Á¾ ÀÎÅÍ³Ý ¼­Á¡ ±×¸®°íwww.moonbears.org ¿¡¼­ Æí¸®ÇÏ°Ô ±¸ÀÔ ÇϽǼö ÀÖ½À´Ï´Ù.
Ãß°¡ ¹®ÀÇ »çÇ×À̳ª ÀÚ¼¼ÇÑ Á¤º¸°¡ ÇÊ¿äÇϽŠºÐÀº ¾Æ·¡ ¿¬¶ôó·Î ¹®ÀÇ ¹Ù¶ø´Ï´Ù.
²÷ÀÓ¾ø´Â ¼º¿ø¿¡ Ç×»ó °¨»ç µå¸³´Ï´Ù.
Park English Team µå¸²
Çѱ¹¾î°í°´´ã´ç: Áö³ª 010- 4735 0363 g.moon@moonbears.org
English Assistance: Kelly 010- 6549 1134 kelly@moonbears.org
Ç¥Áö/ Hard Copy °í±Þ ¾çÀåÁö
Á¤°¡ 8,000 ¿ø