The Ministry of Education of Korea has plans to hire over 500 native English-speaking teachers throughout the nations public schools starting this year. English is the international language for commerce & industry and as a native speaker you can become an asset to educational establishments by improving the standard of English in Korea. Teaching English in Korea can be an excellent alternative to the traditional post-graduate employment path. Teaching is an amazing opportunity to make a difference in the lives of others, while experiencing the rich culture of the Eastern world. Teaching English as a Second Language can be the start of a lucrative, professional career path as well as your chance to gain international experience! As the dedicated HR solutions firm for the Korean Government, we will provide you with the proper assistance to make this exciting career jump to a foreign country a smooth transition.
Why Korea?
-Annual salary of US $24-35K at 30 hrs/wk
-Renewable 12-month contract
-Gain international experience while enriching students lives
-Safe, modern country with the highest investment in private education in the world
-Intriguing language, rich culture and central location for continued travel in Asia
-Great ongoing positions available year-round
-FREE furnished housing, FREE round-trip airfare, paid holidays, health insurance coverage, etc.
-Save up to $15K/year

Why Park English?
*We are a US incorporated and Korean government licensed agency
*We are staffed with completely bilingual & bicultural Gyopos to provide the most effective communication during the recruitment process
*We are based in Itaewon, Seoul city to provide on-going support to teachers
*Our high success rate in recruitment comes from careful screening of
employers and applicants
*We currently work with one of the largest database of screened positions
*We are elected as the official HR solutions firm for the Ministry of Education of Korea
*Photos & Testimonials of teachers available on our website

Qualifications?
- Minimum of a Bachelors Degree from an accredited university in the U.S, Canada, Australia, New Zealand, South Africa, Great Britain or Ireland

- Must be a citizen of one of the above mentioned countries

- Must be a native English speaker

- Must be in good physical and mental health

- No criminal record
*No experience necessary
*You do not need to know any Korean
*There are absolutely no fees for our services
*Teaching certificate and experience preferred but not required
*Any degree welcomed but preference given to education and English majors
*Positions are for one-year contracts, available on an ongoing basis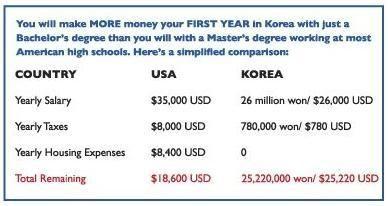 How to apply?
Please submit your online application along with your photo and resume at http://www.parkenglish.com/seeker/t_check.php